EZ Lite Cruiser ® Standard Model
Get More Information at these Resources:
With our Risk Free Trial, There is NO FINANCIAL RISK For you to See it and Try it. Use it Indoors in Your Home Only.
Don't Like it for Any Reason? Just Return it Within 7 Days.
We Pay Return Shipping & Waive the Restocking Fee!
Read our Full Return Policy Here.
Slideshow
Our Top Rated Products
4.5
4.5 star rating
4.5 star rating
155 Reviews, 87 Q&As
Thank you for posting a review!
We value your input. Share your review so everyone else can enjoy it too.
Thank you for posting a review!
Your review was sent successfully and is now waiting for our staff to publish it.
Thank you for posting a question!
Please click on the link in the confirmation email we just sent you to submit your question.

Your question will appear on the site once someone answers it.
Filter Reviews
Weight
Design
Wife
Chair
Speed
Size
Construction
Wheelchair
Feel
Back
Service
Scooter
...
Joystick
Battery
Mobility
Cruiser
Distances
Independence
Person
Use
Wheels
Footprint
Fold
Machine
5.0 star rating

4.0 star rating

3.0 star rating

2.0 star rating

1.0 star rating
Exactly what I need
Review by Dung D. on 7 Apr 2018
review stating Exactly what I need
I am a physical therapist and I have an incomplete cervical spinal cord injury. My injury was 3 years ago and I have been looking for a power wheel chair that is light weight and portable. This chair is perfect. I am able to transfer to a car independently and my wife can easily fold and lift the chair into the back of the vehicle. The compact and light weight design is fantastic. It has given me independence when we we go out to events or travel. I find the seat cushion to be the most comfortable of all my chairs. (I have 1 heavy duty power chair with a Roho cushion and 2 manual wheelchairs with honeycomb seats). I have the standard model and the wheel size is fully functional for getting around moderate cracks in pavement, curb cuts and driveway inclines. Before taking a trip to Europe I would consider purchasing a model with a larger wheel to more comfortably navigate the irregular walkways I am likely to encounter. The lower center of gravity makes it feel more stable than my 350# $18K Quantum 6000. I am 5'8", 150# and the "seat to footrest" is a little too short, however, totally manageable and an easy trade off for the overall comfort and portability. My only constructive feedback would be that the back rest is too far reclined and there is no modification to make it more erect. This adds strain to my neck and back. It also makes me slip forward on the seat. Being a physical therapist myself, I am very attuned to the ergonomic design features. I would recommend a better back support with a more vertical position. We will need to create our own modification in order to tolerate the angle. Likely we will weld on an extension where the seat hook abuts the frame.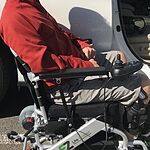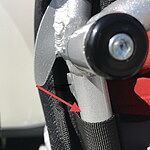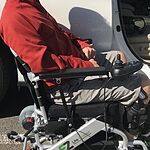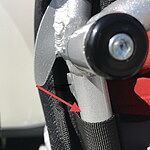 On EZ Lite Cruiser ® Standard Model
Very Convenience , no excuses to take me out
Review by Altagracia D. on 2 May 2018
review stating Very Convenience , no excuses to take me out
I'm very glad I was able to purchase this two easy to go wheelchair , my twins are very happy to be able to go out in any car, I sincerely recommended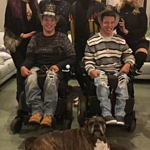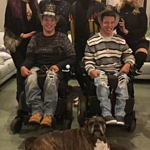 On EZ Lite Cruiser ® Standard Model
Starting a new experience.
Review by Rebeca S. on 13 Feb 2017
review stating Starting a new experience.
My sister is 51, and with special needs since she was born. We are starting a new experience, for her and for all the family. I thought she won't be able to use it, we will need to practice a lot, but she is doing very well, ...and so happy, filling independent.
Its a great chair!!!!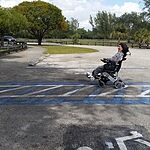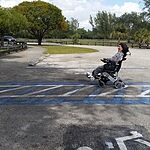 On EZ Lite Cruiser ® Standard Model
Bought one in 2015 and it is still going!!!
Review by Annie K. on 22 Aug 2022
review stating Bought one in 2015 and it is still going!!!
I have loved the convenience of this buggy. I love showing off how easy it is to fold it down, then open it back up (although I did have a bit of a learning curve on getting it open....but now it is a breeze!)

Low Maintenance!! In the past 7 years, I've only had to replace a battery once. And I am now looking into getting new tires.
On EZ Lite Cruiser ® Standard Model
Ez lite cruiser standard model
Review by Cris F. on 13 Oct 2021
review stating Ez lite cruiser standard model
We received the wheelchair on Thursday, Oct 7 and flew by Southwest on the 8th. We had no issues with the airline. We have travelled (by air) since my husband had a stroke 3 years ago and it's always with difficulty. For the 1st time, this travel was uneventful, I Love it. I wish we had this wheelchair years ago.
Our next vacation is next month and my husband is so excited with his newfound independence.
Thank you for expediting delivery! Great customer service!!!
On EZ Lite Cruiser ® Standard Model
Standard EZ Cruiser
Review by Lois A. on 28 Sep 2021
review stating Standard EZ Cruiser
The EZ Cruiser has been one of the best things in my life. I live in a 55+ community & I can go anywhere on the property by myself with my Cruiser. It has made it so I can be independent & give my husband a break. I've had it for over 3 years & have literally wore it out. When my husband started duck taping it together I knew it was time to get another one. The people that has always helped me solved issues with it have been the greatest. I appreciate all of their hard work & promptness. Thank you.
On EZ Lite Cruiser ® Standard Model
My husband loves it. He
Review by Karen F. on 18 Sep 2021
review stating My husband loves it. He
My husband loves it. He can navigate our house so much better.
On EZ Lite Cruiser ® Standard Model
Q: Do you work with Medicare?

A: Medicare only covers DME if you get it from a supplier enrolled in Medicare. Unfortunately, at this time we are not enrolled in Medicare's Durable Medical Equipment, Prosthetics, Orthotics, and Supplies (DMEPOS) Competitive Bidding Program, and we do not bill any health insurance plans directly.
If you're in a Medicare Advantage Plan (commonly referred to as a Supplemental Plan) and you need DME, call your Medicare Advantage Plan's primary care provider to find out if your plan will provide the DME. If your Medicare Advantage Plan won't cover a DME item or service that you believe you need, you can appeal your Medicare Advantage Plan's denial of coverage and get an independent review of your request for coverage. You can also find a description of your Medicare Advantage Plan cost-sharing obligation for all Medicare covered services, including supplemental benefits offered by your Medicare Advantage Plan, in its "Evidence of Coverage" document.
Call the phone number on your Medicare Advantage Plan card and ask about DME coverage options. They can tell you how to potentially get care under a new Medicare Advantage Plan.
If you are attempting to get coverage through a supplemental health care plan or through a private insurance provider (like one provided by your employer) you may be able to get reimbursed for your purchase, if your plan covers DME purchases from out of network vendors. Please visit our Website to Learn More at:
ezlitecruiser.com/apps/help-center#hc-will-my-private-insurance-cover-the-cost-of-the-ez-lite-cr
..
Was this answer helpful?
0
0
Q: Who sells these in Canada - preferably the Toronto area

A: We sell and ship directly to the customer.
Was this answer helpful?
0
0
Q: Is there a way we can modify standard model to use 12 inch wheels

Was this answer helpful?
0
0
Q: How much is a new battery for the EZ lite cruiser standard model Generation 2

A: The 10 Ah battery is $399.95, or the 15 Ah battery is $579.95
Was this answer helpful?
0
0
Q: Is this wheel chair Medicare approved ?

A: If your insurance will cover out of pocket, non coded durable medical equipment, then they may be able to reimburse you for your purchase. At this time, we are unable to bill insurance directly for you.
Was this answer helpful?
0
0
Q: Does the arms fold back while you are in the wheelchair .

Was this answer helpful?
0
0
Q: Do you finance or cash

Was this answer helpful?
0
0
Q: Do you accept Medicare

A: It is not covered by Medicare, Medicaid or any private insurance.
Was this answer helpful?
1
3
Q: Can this be used in my yard.

A: Yes! We recommend the models with the largest (12") rear wheels.
Was this answer helpful?
0
0
Q: Do you ship to Hawaii?

Was this answer helpful?
0
0